Choose Best Alexa Alternative – The Only Guide You Need
Alexa will be retiring on May 1, 2022.
Alexa.com is a subsidiary company of Amazon and it is widely known for its global ranking system which uses web traffic data to measure alexa rank for each website. Unfortunately, this powerful tool will be retiring on May 1, 2022 . This sudden news has sparked a heated discussion in Internet:what is the best alternative to alexa.com?
If you are looking for an alternative to alexa, this article it will help you to find the answer.
What are the key features of Alexa.com?
As a website traffic analysis tool that has been operating for 26 years, Alexa.com provides website ranking, traffic analysis, keyword analysis, competition research and other features. Here we list five essential features of Alexa.com.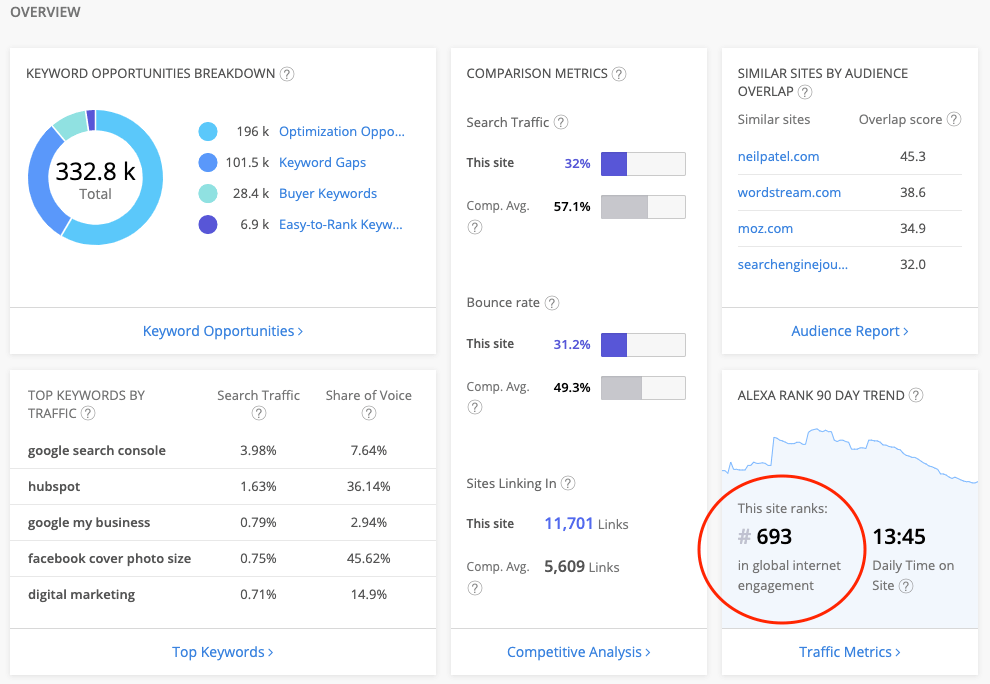 Feature1:Check the alexa rank of any website
Feature2:Quickly view the top keywords
Feature3:Analyze the geo distribution of the audience
Feature4:Find your website competitors
Feature5:Gain Insights from competing websites
Which products can meet these key features and replace Alexa.com?
The table below gives us a brief feature introduction of alexa alternatives. As for the feature supporting, Ahref is the best.
website rank
top keywords
audience geo
explore
competitors
competitors
analysis
Semrush
❌
✅
✅
✅
✅
SimilarWeb
✅
✅
✅
✅
❌
Ahrefs
✅
✅
✅
✅
✅
Spyfu
❌
✅
❌
✅
✅
Ubersuggest
❌
✅
❌
✅
✅
We also need pay attention to the price of these products.
| | | | |
| --- | --- | --- | --- |
| Product | Basic suite | Pro suite | Business Suite |
| Semrush | $119/mo | $229/mo | $449/mo |
| SimilarWeb | $249/mo | $449/mo | Custom |
| Ahrefs | $99/mo | $199/mo | $999/mo |
| Spyfu | $39/mo | $79/mo | not support |
| Ubersuggest | $29/mo | $49/mo | $99/mo |
Although most of these products have free version for users, there are strict restrictions on features and data. Is there any completely free alexa rank alternative?
Free alexa rank alternative:Aranking
Aranking is a complete free alexa rank tool. It provides website rank, traffic distribution, top keywords and competitor site analysis to help you get core data of any website.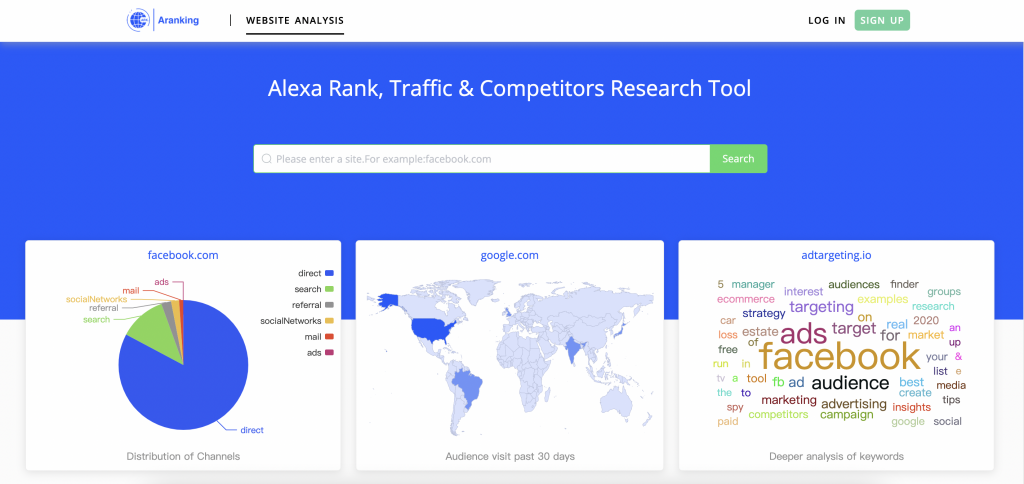 It can help you quickly check the website ranking and the proportion of traffic channels.


Get the geographic distribution of your audience by viewing a map of the world.

By our competition analysis feature, you can quickly explore 10 competitors of searching website, get website data insight about traffic, visit duration, keywords, and obtain the related websites of each competitor.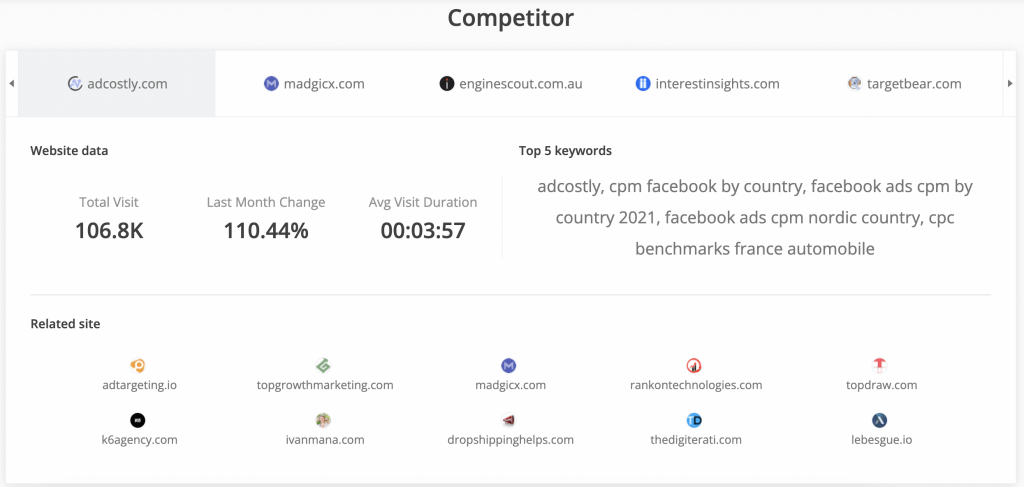 For example, Aranking found ten competing websites of adtargeting.io for me, and showed the basic data and keywords of these websites, which was very helpful for me to study the competitive market.
3 advices to choose best alexa alternative
Clarify your purpose
If you are looking for a comprehensive website market intelligence analysis tool, then my recommended choice is ahrefs. Because it has rich functions, it can fully meet your website analysis needs. On the other hand, if you only focus on a specific feature, such as analyzing the distribution of traffic sources, you just need a free vesion of SimilarWeb. All in all, you need to be clear about what you want from the product.
Choose suitable product suite
If you decide to choose a paid product, then I suggest you study the functional differences of the product suite, because the functional usage times of different suite of these products are also different, and you need to choose the appropriate package to meet your requirements.
Consider free alternatives