An Ultimate Guide to Choose Free Alexa Rank Alternatives – Aranking
Alexa Rank Was Gone on May.1 2022
Alexa.com is a subsidiary company of Amazon and it is widely known for its global ranking system which uses web traffic data to measure alexa rank for each website. Unfortunately, this powerful tool will was retired on May 1, 2022.
Why Alexa.com Was Retired by Amazon
There are three reasons for alexa's retirtion:
Too expensive to keep alexa rank active
The number of website users has decreased significantly
Can't keep up with competitors, such as Similarweb.com
Between January 2021 and November 2021, the average number of unique visits to Alexa.com fell by 28%. On the other hand, over the same period, the major competitors of Alexa like Similarweb witnessed a 40% average increase in unique visits. After the realization that Alexa.com cannot attract new traffic and keep up with the expansion of its competition, also consider the huge cost of Alexa.com maintaining website data updates, Amazon chose to close its service on May 1, 2022.
4 Free Alternatives to Alexa Rank
As we all know, alexa.com's website analysis function is very powerful, it provides several necessary website analysis indicators, such as website alexa ranking, keyword analysis, overlapping keywords, similar website exploration and so on. What's more, you can get this comprehensive data for free, which all other competitors product can't provide.
Here are 4 free alexa rank alternatives recommended for you, we list a brief overview of them.
website
features
Aranking.io
1.website alexa rank
2.website traffic analysis
3.audience geography
4.keyword analysis
5.competitors research
easycounter.com
1.website audience
2.traffic analysis
3.subdomains traffic shares
4.social engagement
siteprice.org
1.website worth measure
2.estimated website traffic & revenue
3.top competitors
similarsites.com
1.find similar sitesweb
2.site categore rank
3.trending topics
In the terms of features, Aranking is the best choice. It can almost completely replace all Alexa.com features. Base on this fact, we need to make an in-depth analysis of aranking.
Best Alexa rank alternative: Aranking
What is Aranking?
As a free alexa rank alternative, Aranking is a complete free website Alexa rank tool. It provides Alexa ranking, traffic distribution, top keywords, and competitors analysis to help you get the core data of any websites.
What Metrics Can Aranking Provide for Website Analysis?
Three types of website rank are provided for you to measure a website performance: global rank, country rank, category rank.

Website Visits & Traffic Distrubtion
Viewing the website visit data can help you judge the health of the website and improve the website weaknesses.
Check the distribution of traffic and make the most cost-effective user growth strategy.
Audience Geography
Aranking uses a world map to reflect the geographic distribution of your website audience.
Top Traffic Keyword & Overlap Keyword
Aranking shows you the top keywords of a website, which can help you quickly analyze the positioning and SEO keywords of the website. As shown in the image below, I searched for live3d.io and the top keywords revealed that this is a vtuber software service website.
Analyze overlapping keywords with competitors and avoid investing too much energy on highly competitive keywords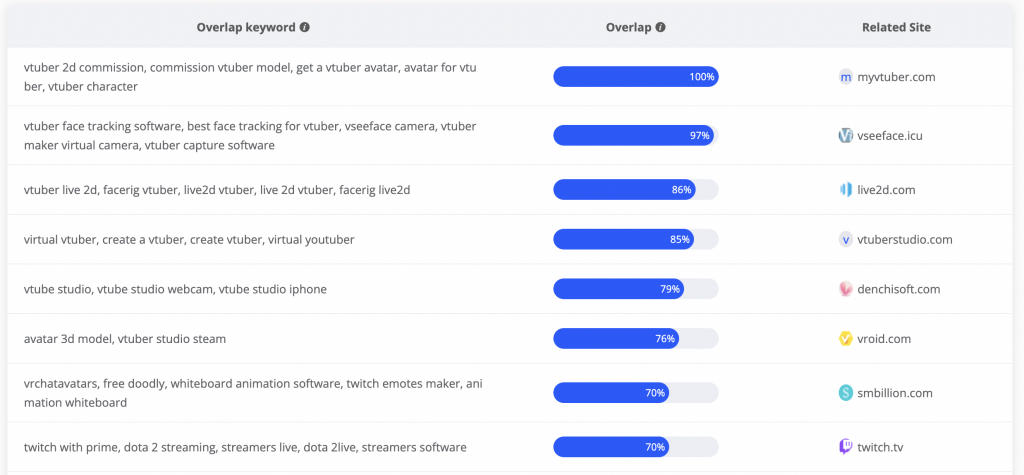 Competitors Analysis Report
Aranking can help you quickly find 10 competitors of a website, you can gain insight into competitors' website intelligence through this feature.
In The Last
As a alternative of alexa rank, Aranking's comprehensive data can highlight the whole competitive environment, allowing you to make better-informed business decisions about every aspect of your strategy.